Enviar resumen de impresión por email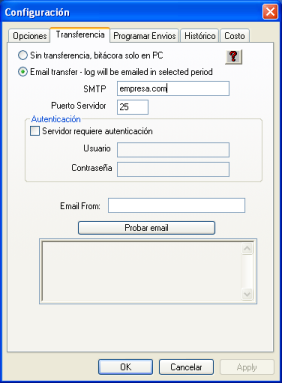 Puede configurar Cyberprinter para que envie la bitácora de operación a su buzón de correo electrónico, con la ventaja de tener un resumen de la operación diaria de forma desatendida.

Email
Para configurar el envio de la bitácora a su correo electrónico, solo es necesario especificar su dirección de correo electrónico. Además es necesario especificar una dirección SMTP, esta dirección la puede obtener con su proveedor de internet o con el administrador de su red.

Botón probar email:
Este botón permitirá probar si la configuración fue correcta o no. Provee un diagnóstico de la conexión y respuesta del servidor de correo además del envío de un correo de prueba.
Un ejemplo de una sesión correcta será:
(La secuencia de eventos es de abajo hacia arriba)
Email Test successfully sent.
250 2.0.0 i440i5Ko028261 Message accepted for delivery
354 Enter mail, end with "." on a line by itself
DATA
250 2.0.0 Reset state
RSET
250 HELP
250-DELIVERBY
250-ETRN
250-DSN
250-SIZE
250-8BITMIME
250-ENHANCEDSTATUSCODES
250-mail.gem.com.mx Hello dialup467.gem.net [201.130.7.211], pleased to meet you
EHLO vaio
220 mail.gem.com.mx ESMTP Sendmail 8.12.8/8.12.8; Mon, 3 May 2004 19:44:05 -0500
Connected.
Connecting to mail server.